PROGRESS CAROLINA ROLLS OUT PROGRESS 360
Progress Carolina's goal is to maximize the value we provide to our clients as we continually strive for excellence. Using our industry insights and expertise to improve and streamline the process and manage costs, we developed our unique, client-centered, team-based approach called Progress 360 to serve the needs of our clients better.
Rather than relying on individual practices, we bring our expertise together in one office. Our team's ability to manage the complexities of the build from initiation to delivery is beneficial to our clients. We offer an honest, single point of contact communication, keeping you informed throughout the entire process, thus freeing up your time to focus on other business needs.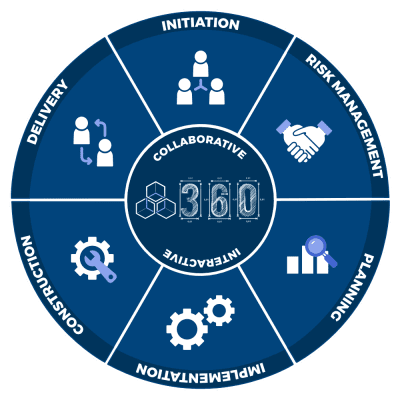 Our 360 process starts with understanding your vision and learning your expectations to assemble the right team to deliver successful turnkey projects. Trusted relationships are formed with our vast array of Architect, Civil, Structural, and MEP design partners, ensuring we engage the best team of specialized experts and professionals for your project. Our team members share a collective commitment to excellence and are dedicated to providing best-in-class service. Everyone on the team knows and understands the client's vision and expectations, is accountable and committed and focused on achieving optimum project goals, giving us the ability to control the process better, schedule and costs, and meet project deadlines. "We know that by assembling the right team, we provide our clients with a significantly higher level of quality, greater innovation through collaboration, and higher profit potential. Our Progress 360 process is the foundation on which we build," says Chris Praet, President of Progress Carolina.
With this multidisciplinary and partnership approach, we interpret your vision and requirements, review the entire process from project feasibility, analysis, permitting, entitlement financing through construction, thus removing guesswork and wasted time and travel. We develop a comprehensive management plan: scope, budget, objectives, and requirements get communicated with all parties involved right from the start. Early coordination and understanding of your project ensures we capture your vision, reducing redesign, and change orders throughout the build. By leveraging our experience to maximize design efficiencies, we control costs, overdesigns, and reduce the build cycle—optimizing the process, quality, and increasing value and sustainability.
An efficient and tight-knit group of professionals, our firm size works to our clients' advantages. Constant communication, management of quality standards, and a personalized approach to the build, as if it was our home, continue to expand our reputation as a preferred, industry-leading construction partner. Our Construction Managers exemplify workmanship at the highest level; detailed scheduling with strict milestones, responsiveness, and adaptability ensures timely delivery and seamless transition for the expected deliverable. Our highly skilled punch list team ensures that we exceed requirements providing an everlasting community for years to come.